Diploma Translation Services - Explained
Certified diploma translations are required for anyone who has moved from a foreign country and needs to prove their educational accomplishments in another language.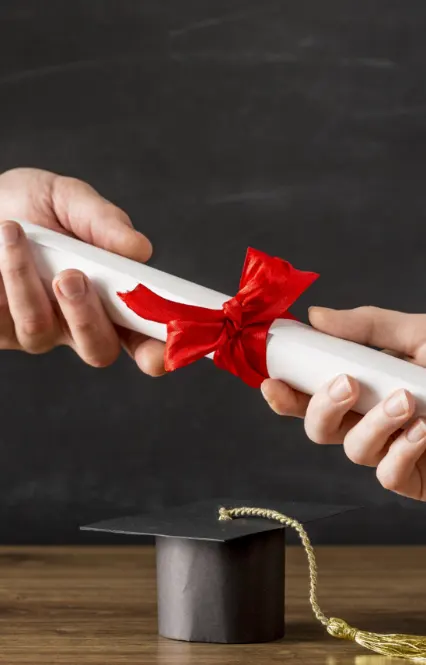 Whether the diploma or certificate comes from a high school, college, university or any other educational institution, certified diploma translation provides a complete and accurate rendering of your document in another language. The translated diploma (and a transcript translation, if this is needed) is certified as reliable by Tomedes, with a one-year guarantee after delivery.
Types of Degree Certificates
You may be surprised at how many varieties of degree certificates and diplomas there are. Don't worry. Tomedes has experience translating every type in more than 1,000 language pairs.
High School Diplomas
You may be surprised by how many employers and educational institutions want to see your high school diploma years after your graduation. When you went to high school in a foreign-speaking country, you will need to get a certified diploma translation.
Undergraduate Degrees and Diplomas
Undergraduate diplomas need to be translated to confirm what they say and mean in a foreign speaking country. To verify that your degree is valid, you need to obtain a certified diploma translation to prove your educational achievements.
Graduate Degrees and Certificates
As you climb the rungs of educational achievement, you achieve international recognition. But to prove the meaning and veracity of your graduate diploma degree abroad, you may need to obtain a certified diploma translation. Tomedes can provide this for you.
Use Cases for Diploma Translation
Tomedes specializes in providing diploma translations of all kinds, from high school diploma translation to undergraduate and graduate diploma and certificate translations. But our certified translation services to scholars extends further.
College Applications
Before you need to get your diploma translated, you first need to be accepted! When you are applying to a school, college or university in a foreign language, that's not easy. Tomedes can assist you in translating your college application.
Graduate School Applications
Often those who attain an undergraduate degree seek to extend their education abroad. Often that means applying in a foreign language and to be judged on the quality of that application. Tomedes can help you get in by translating your graduate school application.
Job Applications
If you seek employment outside your native land, there's a good chance that you will need to apply for jobs in an unfamiliar language. Don't worry. Just call Tomedes. We'll translate your job applications supporting credentials into the required language.
Our Recent Diploma Translations
With translation experts in more than 100 countries and experience with 1,000+ language pairs, Tomedes can handle any diploma translation.