Small businesses often require translation services to cater to diverse local communities, and sometimes a global audience – most commonly in the form of website localization, translation of marketing materials, and translating legal documents for compliance.
Moreover, having multiple languages among a clientele urges a small business to translate their assets such as customer support materials, internal communications, and even e-commerce content. Due to these needs, internationally operating small businesses partner with professional translators – leveraging professional expertise and existing language technologies to better extend services to the target market.
Legal translation holds a significant importance in this context, particularly for businesses engaging in international trade or services. Accurate translations of legal documents facilitates effective communication between international authorities, business owners, and potential customers. Ultimately legal translation done right mitigates any potential legal disputes, allowing small businesses to focus on scaling-up their operations.


Various Translation Needs of Small-Sized Businesses
E-commerce retailers, manufacturers, tech companies, travel agencies, media companies, etc. – In our globalized world, small-businesses within any niche now have the liberty to operate internationally because of various platforms that are now available to us. Small-sized businesses looking to expand their reach sometimes turn their heads to other strong marketplaces that are yet to be conquered by the big companies that dominate their borders.
Due to this, many small-businesses have the need to bridge linguistic and cultural gaps that exist between them and their target market. This is where translation companies come in. Here are some translations with which our clients need help with:
Website/Software Localization
This enables businesses to cater to a global audience, enhancing user experience by providing content that accounts users' native language and cultural preferences. Translation providers ensure that all translated content is contextually relevant and culturally sensitive.
Technical Documentation
This ensures consistent usability of their product/delivery of their services in all markets where these small businesses exist, essentially allowing cross lingual users to properly capitalize on the value that they offer. Professional translators possess the technical expertise to convey complex information effectively
Marketing Materials
Legal Documents
This is perhaps the most vital among these translation needs, in a way wherein improper execution may terminate small businesses' international operation altogether. Having legal native translators that understand local laws and regulations allows a small business to smoothly operate within any chosen locale.
By addressing these common translation needs, small businesses can effectively reach and engage with global audiences, foster better relationships with international partners (should they have any), and ensure compliance with local regulations in foreign markets. Leveraging professional translation services is ideal for small businesses that are yet to establish in-house language solutions of their own.

Thus, our most pressing question: How do you maximize your ROI when outsourcing translation services? After all, the goal of every business is to maximize its profitability.


How to Maximize ROI for Outsourced Translations
Traditionally speaking, return on investment (ROI) is measured by the revenue driven by any particular investment. However, while revenue remains to be the ultimate goal, ROI also reflects intangible benefits such as customer satisfaction, brand loyalty, market reputation, and operational efficiency.

These aforementioned intangibles offer long-term value to business that sets them up for better opportunities and future successes. By assessing ROI in a holistic manner, businesses can appreciate the multifaceted impacts of their investments and make more informed strategic decisions – allowing for immediate financial gains, sustainable growth, and competitive advantage.
Setting clear objectives and expectations - By clearly defining goals and expectations, small businesses can ensure that translation providers understand their truest and most specific needs. This alignment fosters efficiency and effectiveness, directly impacting the ROI.
Select the right language service provider - Choosing a provider with the right expertise, experience, and values ensures high-quality translations that allow your efforts to be more potent. With the right translation partner will drive ROI by effectively covering any linguistic gaps within your system.
Quality monitoring and evaluation - While it is easier to let the language professionals have free reign on what they do best, it is crucial that you stay critical. Find a means to get some form of feedback so that you can be better informed on the strengths and weaknesses of your partnership. Better understanding equals better ROI.
Considering flexibility and scalability - Translation needs may evolve as the business grows or enters new markets. Partnering with providers that offer flexibility and scalability ensures that the service can adapt to changing needs without sacrificing resources or overhauling your established flow.
Proper cost control - This goes hand-in-hand with knowing your priorities and strengths. Learn to allocate your resources properly and know how to effectively utilize your partnership with your translation partner. While it is both comforting and tempting to have all your assets translated, it is best if your proceed with your campaigns more intentionally. Professional translations – even the most cost-effective ones – are an outflow for your business at the end of the day.
Establishing a long-term plan - Developing a strategic, long-term approach allows a business to establish a healthy relationship with a translation partner – one wherein both parties can grow together. This relationship creates a synergy between partners, reducing redundancy, fostering growth, and maximizing ROI.


Best Translation Partners for Small Businesses
As said earlier, working with the right translation provider is vital for small businesses operating internationally. Having a partner that understands industry-specific terminology; cultural nuances within your target market; and legal regulations to be followed is the only way towards success.

As of 2023, here is a list of language services providers that you may want to consider – recognized especially for catering to small-sized businesses: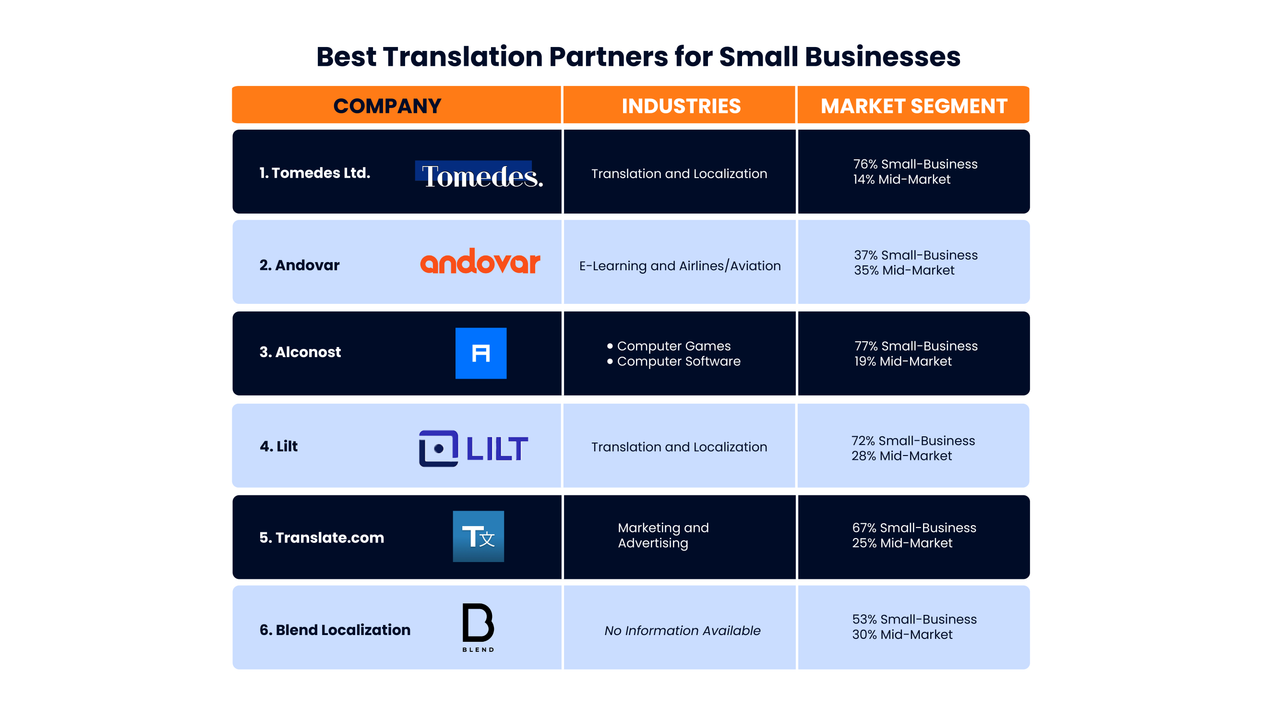 Summary
Through professional translators' expertise and knowledge, any small business are allowed to thrive in foreign markets despite language and cultural gaps.However, this partnership requires an intentional and strategic approach in order to garner positive results. By building long-term relationships and developing a system that covers your translation needs, small businesses can effectively extend their products/services to their stakeholders and grow sustainably.