In 2008, Lucja Biel studied the common terminology mining practices of legal translators – ranging from the utility of traditional translation dictionaries to newer tools of the time, such as search engines and discussion forums. Over a decade later, translators are now equipped with more potent and powerful tools (i.e., translation glossaries, translation memories, large language models, etc.) that allow them to streamline their process without sacrificing the quality of their work.
How exaclty do translation glossaries, for one, benefit a translator and their clients?
For translators, a glossary provides a consistent reference for specific terminology, ensuring accuracy and uniformity across different translation projects. It saves time and reduces the need for repetitive research, especially in specialized fields like legal, medical, or technical translations. For clients, a translation glossary helps preserve brand identity and conveys the intended message more effectively by maintaining consistency in language usage. It can also lead to cost savings by streamlining the translation process and reducing the potential for errors that might necessitate costly revisions.
In this article, we will study the pain points of using translation glossaries, their development, and the resources you can use.


Pain Points Identified: Using Translation Glossaries for Legal Purposes
Over the last decade, a great deal of attention was given to the utility of translation technologies (and its challenges) due to its sheer impact on official international proceedings, as well as the growth it presents for the translation industry as a whole. While some of these old pain points still persist today, some have arguably been alleviated.
The growth of online translation tools has undoubtedly redefined traditional lexicography. Yet, the complexities of legal translation still necessitate human creativity and understanding of legal contexts – therefore emphasizing the need for wise and strategic use of said translation tools. This ever-existing interplay between the intended purpose and style of translation; translator's expertise; and the limitations of dictionaries are always to be considered when tailoring the optimal balance between accuracy and efficiency.
In the past, tools available to private professional translators fell short of those used by international organizations, revealing a noticeable technology gap among various institutions. This highlights the need for the private sector to develop advanced systems designed to cater for unique demands within the practice of legal translation. Seeing the current landscape of the language industry, we have reasons to believe that this is no longer the case; that the private sector has at least caught up to glossaries used by international organizations.


Implications of Market Growth to Translation Technologies and Resources
Driven by globalization, the translation industry has experienced significant growth over the last decade. Businesses, governmental bodies, and international organizations are urged to communicate across linguistic barriers. Through the graph below, we can examine said growth within the industry.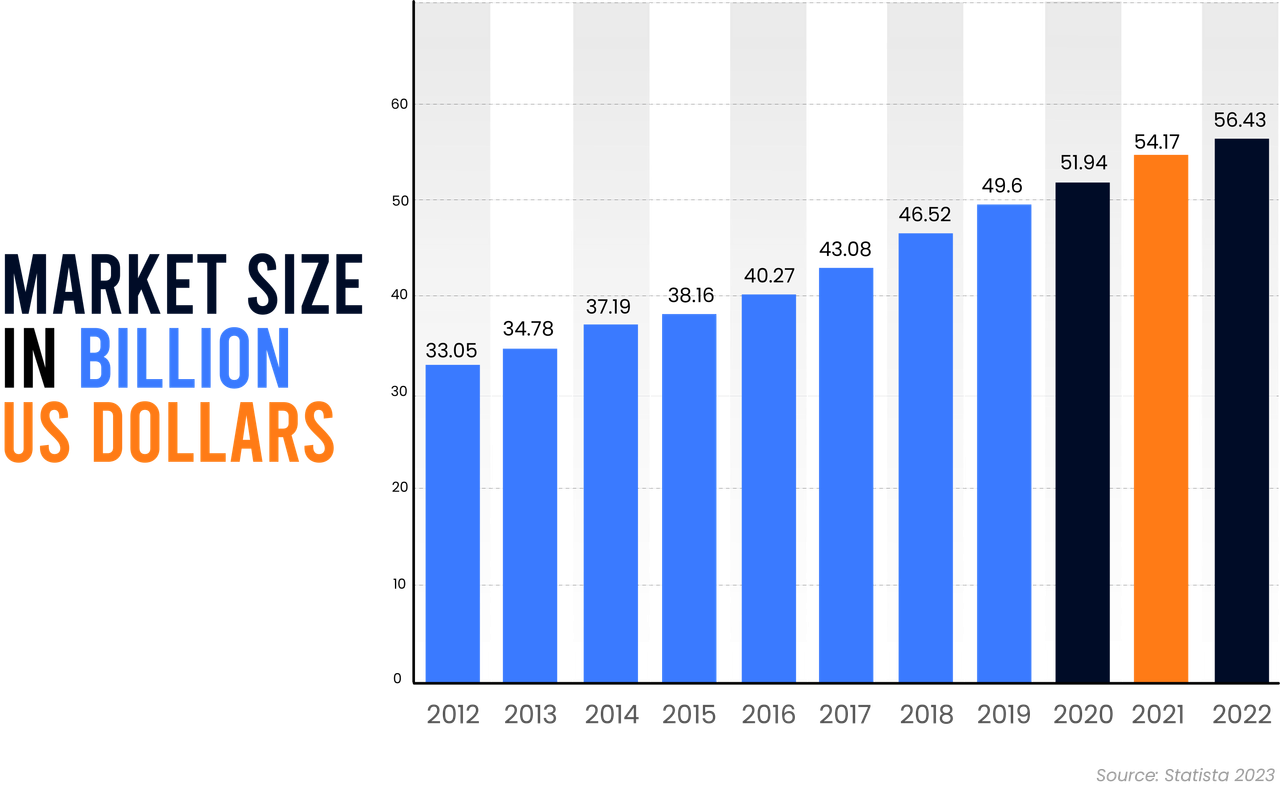 What hypothesis can be made from seeing this market growth?
The implications of this market growth on translation technologies, we assume, is as follows. The rising demand has spurred innovation due to competition among providers, leading to the development of more advanced, user-friendly, and cost-effective translation tools.


How is a Legal Translation Glossary Developed?
The development of a legal translation glossary is a critical aspect of the legal translation process. In the following segment, we'll explore how a legal translation glossary is methodically crafted, focusing on the specific steps, tools, and considerations involved.
In 2018, National Center for State Courts (NCSC) published a detailed guide on developing translation glossaries. Within said guide, the process of developing a bilingual or multilingual legal glossary was summarized through six concrete steps.

According to NCSC, the creation of a standard glossary can cost anywhere from $13,000 to $35,000, with the price fluctuations based on various elements such as: presence of an in-house translator, the availability of legal reference materials, and the selected platform for delivery. Do note that the figure provided here does not account for the maintenance that the glossary will require.


Translation Glossary References You can Use
Many legal authorities have publicly shared their translation glossaries, fostering transparency and standardization within any given legal community. These glossaries can serve as educational resources for law students, researchers, and other legal professionals; tools for international communication in a globalized legal landscape; and lastly, references for any glossaries to be developed in the future.
National Center for State Courts (NCSC) – a nonprofit organization dedicated to improving judicial administration and enhancing the functioning of state courts through research, education, and information sharing. They provided the public with bilingual and monolingual legal terminology resources developed by various courts, stakeholders, and academic bodies.

Digital.gov – the U.S. government's central resource for tools, guidance, and best practices to enhance digital and technological innovation within federal agencies. They provided the public with various government bilingual glossaries, covering areas such as employment, aviation, elections, finance, health, environment, education, and technology, provided by different U.S. departments and agencies.
TranslationJournal.net – a comprehensive online publication catering to translators and interpreters, offering a wide range of articles, tools, and professional insights to support the translation community. They publicly provided a comprehensive legal glossary aimed at court interpreters, containing common legal terms for various aspects of court proceedings. Created by the Australian Queensland Government, it serves as a valuable resource, allowing space for interpreters to add notes and modify content to suit their needs.