Career Guide: Getting Started with Voice Acting
February 4, 2021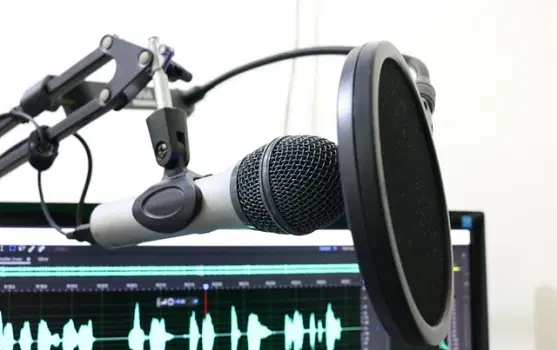 I often discuss voice acting with clients who are looking into video translation. Usually, it's part of a discussion around the merits of dubbing versus subtitles for translated videos. But what exactly does it entail? If you're wondering how to get into voice acting, this is the post for you. Read on to find out all you need to know about how to become a voice actor.
Voice Acting – Defined
Understanding how to be a voice actor first means getting to grips with what the profession entails. It's not just about having an expressive voice. Voice acting, in a nutshell, is the art of lending your voice to film or TV characters, adverts, audiobooks and anything else where the speaker is heard but not seen.
Different Fields of Voice Over Work
There are many different fields of voice over work. Indeed, one of the things that those who become voice actors often list as a key benefit of their profession, in my experience, is the variety of work that they undertake. There can be significant differences in the execution of voice acting in different fields. As such, if you're wondering how to start voice acting, it might be worth considering which of the following areas you would most like to target.
Films
From animations to dubbed foreign language films, there's plenty of voice over work available in the movie industry. You can be a voice over artist for full length feature films, animation shorts and even trailers and promos, each of which will have its own specific requirements and nuances.
Video Games
While many people think of films first when it comes to getting a voice acting job, it's worth bearing in mind that the global video games industry is worth four times the movie industry – and it's still growing rapidly. Plus, unlike the movie industry where most actors appear on-screen, the video game industry relies almost entirely on voice acting.
Toys and Games
With so many interactive children's toys and games on the market these days, there's plenty of work for those who focus on this sector when looking at how to get into voice acting.
Phone and Other Interactive Voice Response Messages
You know those annoying phone message systems that prompt you to say a word and then don't recognise what you've said in response? They're called interactive voice response (IVR) systems. Each and every one of them needs a human voice at its core.
Podcasts
Podcasts are also growing, as businesses seek to connect with customers in new ways. Again, this represents an excellent opportunity for those wondering how to start voice acting.
Commercials
Television and radio commercials often use a voice over artist to promote a particular product or brand. These are much shorter jobs than those mentioned above and usually one-off but can still be a decent source of income.
TV Programme Voice Over Acting
TV programmes warrant a mention of their own, in addition to the film industry. That's because they can become a source of ongoing work if the voice actor is part of a popular show that runs for several seasons. TV programmes can, of course, also be one-offs, such as documentaries.
Radio or Audio Dramas
Like TV programmes, radio/audio dramas can run and run, providing an excellent long-term source of voice acting income.
Audiobooks
Getting an audiobook voice acting job can also be lucrative, based on the length of the work involved. And with the industry expected to grow at a compound annual growth rate of 24.4% from 2020 to 2027, there's plenty of work to go round.
Live Events
I think that hosting events as a live announcer can sometimes feel particularly daunting for voice actors. That's because there are no second takes. Still, this is an area of work that is well worth exploring if you're not phased by the pressure of your voice over work being delivered in real time.
Training/E-learning
A timely topic in this day and age, training and e-learning companies use voice actors in a range of ways, from teaching foreign languages to producing video tutorials.
The Voice Actor: Skills and Requirements
There are several skills that you will need if you want to become a voice over artist. Two of the most important include:
Flexibility
I mentioned above that the variety of voice acting is a large part of its appeal. However, this requires voice actors to be flexible in their approach, chopping and changing the kind of work they undertake and the hours they work in order to meet demand.
Confidence
The voice over world is no place for wallflowers. You'll need to be a confident self-starter in order to win jobs and build client relationships. You'll also need to speak confidently when recording.
What You Need to Get Started in Voice Acting
Have you heard enough to make you want to find out more about how to become a voice actor? Yes? Excellent. In that case, I'll move on to what you're going to need to get started.
Voice acting isn't the cheapest career to launch, but there are plenty of ways that you can save money when you first start out, as I'll cover below.
Equipment
Most importantly, you'll need a home studio. This should be a space that is free from background noise, whether household sounds or traffic noise, so you'll need to soundproof it. Professional soundproofing materials are expensive, but you can make do with using duvets and thick blankets to start with, if need be. Just be sure to cover every hard surface to stop the sound bouncing.
Bear in mind as well that even a large walk-in wardrobe can serve as your voice acting studio if you are careful enough with the setup.
The key pieces of equipment that you will need are:
• A computer
• A decent quality condenser microphone that comes with an XLR cable
• A pop shield for your mic
• A mixer
• Decent speakers for listening to yourself back
• Recording software
Software
There are various options available when it comes to software for your voice over work. Make sure you read plenty of reviews to ensure that you get the most suitable software for your setup.
Demos
A key requirement of getting started as a voice over artist is your demo reel. Your demos are your chance to showcase your amazing vocal talent, whether on your own website or through direct pitches to potential clients. There are plenty of sample scripts available online that you can use when recording your demos.
Your Own Website
As I've mentioned your own website, it's worth expanding on that quickly here. You'll need a place to detail your skills and share your voice over work demos and successes. A website is the ideal place and doesn't cost the Earth to create. Alternatively, you can use an online profile that allows you to upload clips and present your professional credentials.
Common Difficulties That Voice Actors Experience
Voice acting can be an exciting and fulfilling career but that doesn't mean that it's without its challenges. Some of the more common difficulties associated with having a voice over job include:
• Peaks and troughs of work
• Vocal fatigue and illnesses such as colds, that affect the voice
• Lack of sick pay and holiday pay (in common with many freelancers)
• Needing additional equipment to deliver non-vocal noises
• Unexpected background noise, from your local recycling truck to your neighbour building an extension
• Irregular working hours (for some this is a bonus, for others, a pain)
Getting Started in Voice Acting
When it comes to learning how to be a voice actor, there's plenty to take on board. If you're serious about getting started, follow the tips below to launch your new voice over career.
Know the Ins and Outs of the Field – Research, Research, Research
Just like entering any new industry, you'll need to put some time into research. Should you work freelance or for an agency? Apply for work through job board sites or first launch your own website? What sort of voice acting work most needs your particular accent? Spend time researching and building a plan to launch your career the right way.
Training
Voice acting isn't just a case of sitting down and speaking into a microphone. You'll need to invest in some training initially. There are plenty of options out there and many voice over coaches will work with you via video call. They are an invaluable source of tips and advice, so it could be worth booking a session with a couple of coaches in order to benefit from their combined experience.
Setting Up Your Equipment
If you're not that confident with technology, it's time to face your fear and learn. You'll need to set your equipment up properly so that you can not just record your voice but also edit it, remove breathing noises and more.
Equipment
There will be a bit of trial and error involved in positioning your equipment correctly, so try to have fun with it and enjoy creating your new workspace. Remember that the basics you will need include:
• A computer
• A microphone
• A pop shield
• A mixer
• Decent speakers
• Recording software
Software
You will naturally be guided by your budget but some popular examples of software that allow you to record and edit your voice include:
• Adobe Audition
• Sony SoundForge Pro
• Wavasour
• Cubase
• Audacity
• Twisted Wave
Building a Portfolio
Your portfolio is your opportunity to show off your talents, so be sure to highlight each of the following:
Demos
These will be the most influential factors in convincing clients to give you an audition. Make sure they are plentiful and of high quality. If you can do different accents, this is your chance to let them shine.
Recordings
Once you've started to work as a voice actor, you'll be able to include clips of recordings that you've worked on, to demonstrate your experience.
Full Profile
Clients will want to know about more than just your voice. Use your portfolio to give them the chance to get to know you, from the kind of work you're best at to your rates. Adding details such as your location, other skills/interests and so forth will help potential clients to get a more personal vibe from you.
Specialist Skills and Knowledge
Do you speak more than one language or have an in-depth understanding of, say, medical or legal terminology? If so, be sure to include this in your portfolio, to ensure that those reading it can appreciate the whole gamut of your abilities.
Audition and Gain Experience
With your portfolio set up, it's time to start finding work. You'll need to audition for roles and gradually build up your experience.
Marketing Yourself
You'll need plenty of resilience when it comes to marketing yourself as a voice over artist. As with any other kind of freelance work, it's up to you how much time and energy you dedicate to marketing, as well as the kind of marketing work you undertake. Whether you focus on networking, social media, mailshots, your website or any other form of marketing is up to you. Just be sure to review how successful your efforts are in order to refine your approach over time.
Be Inspired – Some Popular Voice Acting Work in the Past Few Years
There are some superb examples of successful voice acting work out there, as well as some rather less impressive efforts (the less said about the voice acting on the Watch Dog Legions video game released towards the end of 2020, the better).
Some of the most inspirational examples of voice acting work in the past few years include:
• Tara Strong
• Jim Cummings
• Nancy Cartwright
• Harley Bird
• Kevin Michael Richardson
Tara Strong's varied career demonstrates how diverse voice over jobs can be. She has featured in everything from the Final Fantasy and Metal Gear Solid video game series to the hugely popular Powerpuff Girls cartoon.
Jim Cummings' voice has been in almost 400 films and TV shows over the years. His most famous role? Being the voice of Winnine the Pooh and Tigger, which he has been doing since 1988.
Nancy Cartwright is another voice over actor with a long-standing career. She has been the voice of Bart Simpson since 1989, as well as fellow characters including Ralph and Nelson.
Harley Bird is another incredibly well-known voice. The young voice over artist was the voice of Peppa Pig for 13 years before stepping down at the start of 2020.
My final example, Kevin Michael Richardson, is a superhero stalwart. Over the years he has been The Joker, Wolverine, Shredder (in Teenage Mutant Ninja Turtles) and Groot in Guardians of the Galaxy.
Succeeding in Voice Acting
I hope that this guide to how to get into voice acting has been of use to you. Voice over work can be immensely fulfilling, but it does require hard work to succeed. By taking the above tips into account, you should be well positioned to launch a successful career in this exciting and expanding industry.
Summary
In summary, to get into voice acting, you will need:
• A clear, expressive voice
• A soundproof home studio with the right equipment and software
• Plenty of confidence and resilience
• A website and portfolio to showcase your skills
• A proactive approach to networking and marketing your services
With all that in place, it's time for your new career as a voice actor to begin.