3 Of The Best Countries To Work Freelance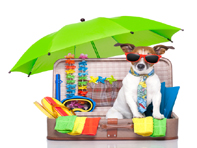 Working freelance means that you are free to manage your own time and your own workload. For those working in freelance jobs that can be done remotely – such as professional freelance translators – it also means that you can choose the location in which you work.
Translators have a particular advantage when it comes to working in a new country, as they can use their linguistic abilities to offer language lessons as a source of additional income.
Of course, before making any firm decision to move abroad, be sure to check out the residency and visa requirements, taxation system, healthcare arrangements and other legal factors of your intended destination, in order to avoid any unpleasant surprises after you arrive there.
Once you've done your research, whether you're planning a permanent relocation or just a few months experiencing a new culture, it's time to pack your bags!
Thailand – cheap rent and wonderful scenery
Thailand is one of the best places in the world for living at low cost. Rent is low and the local cuisine is both healthy and incredibly cheap. Combine this with incredible beaches and wonderful weather and you have a picture-perfect destination that is the country of choice for many freelancers.
But Thailand's advantages actually run deeper than great food and year-round swimming in the ocean. The country's healthcare system, for example, is very good value when compared with systems in places such as the US, with world-class hospitals in major cities, where the staff have the time to be as attentive as you would wish.
The low crime rate is another attraction for freelancers considering relocating to Thailand, as is the low cost of transportation and telecommunications. The latter is particularly important for those who need to communicate regularly with clients in other countries for work purposes. Between Skype and the low cost of calls and data in Thailand, $25 per month should be sufficient for all your electronic communication needs.
Hong Kong - dynamic, urban living
The fourth most densely populated place on the planet, Hong Kong teems with life. The territory is an important global financial centre and, as such, has attracted residents from around the world. If you like the hustle and bustle of urban life and want to freelance somewhere where you can feel the energy of urban life all around you, Hong Kong is an excellent choice.
From a freelancer's perspective, Hong Kong has a number of advantages. Income tax rates are low, while internet speeds are high - an attractive combo for freelancers working across a range of disciplines. There are also plenty of opportunities to build a dynamic freelance career thanks to the huge number of potential business contacts and the territory's entrepreneurial spirit.
On the downside, life in Hong Kong is far from cheap. In fact, it's the most expensive place to live in Asia. As such, a decision to work freelance in Hong Kong should be weighed up very carefully in terms of the cost of life there versus the opportunities that such a life can bring.
Ukraine – a perennial Upwork top freelancing country
For those seeking the dynamism of city life, but without the budget to live in Hong Kong, Ukraine is a great option. With a business-minded ethos that freelancers will find refreshing, Ukraine can provide a wonderful experience for those wishing to work there while experiencing its interesting culture and fascinating sights.
The low cost of living means that freelancers settling in Ukraine may well be able to afford to drop the rates that they charge while still maintaining a high standard of living. Obviously this opens up the possibility of expanding your client base through more competitive rates.
In fact, Ukraine is so popular with freelancers that it regularly feature's in Upwork's list of top freelancer countries.
Rents and property prices in Ukraine are low, as are electricity and telecommunication costs, which make it an ideal place from which to work from home. For freelancers looking to live in Ukraine longer term, becoming a resident means an entitlement to free medical care (though medicines still need to be paid for), which is an important consideration for older freelancers or those looking to start a family in Ukraine.
Still not sure where is the best place for you? Maybe this fun quiz will help.
Which country have you chosen to be based in and why? Tell us about your decision using the comment box.
POST YOUR COMMENT
Stay informed
Subscribe to receive all the latest updates from Tomedes.